Bathroom Tips: Guide To Potty Training
One of the thrills and pleasures of being a parent to a toddler is watching as he or she grows and learns rapidly. Each day for a toddler brings new adventures and discoveries; we see things we once took for granted anew once we view them again through a child's eyes. With that excitement, however, comes challenges that can frustrate even the most patient of parents. One of the biggest challenges parents with toddlers face is potty training. While nothing can remove all of the stress that goes along with potty training, with the right information and proper resources, parents can lower that stress to more manageable levels. Here i s some information and tips on potty training your toddler.
When to start
There is no universal, correct age at which children should be potty trained. Most doctors and child care experts point to the age range of 18 months to three years old. However, some children are ready before 18 months and some will still need more time even after reaching the age of three. Do not feel the need to rush the process – it will just lead to more frustration and anxiety. There are two different components of "readiness" that parents need to consider before attempting potty training: physiological (body) and psychological (mind). If a toddler is only ready in one aspect, it is best to delay potty training. Here are some basic questions to ask about your child:
Physiological
Can your child stay dry for at least 2-3 hour intervals?

Does your child know when he or she is urinating or making bowel movements?

Does your child make facial expressions or show other physical signs that he or she is about to go to the bathroom?

Can your child walk confidently to and from the bathroom?

Can your child pull his or her pants up and down?

Can your child stay seated on a chair by himself/herself?
Psychological
Is your child uncomfortable wearing a dirty diaper?

Does your child ask you to change his/her diaper when it's soiled?

Does your child ask to wear regular underwear?

Can your child follow basic commands and instructions?

Is your child willing to change old routines?
If you answered "Yes" to most or all of these questions, then your child most likely is ready to begin potty training. Now the more important question: Are you? Parents should ask some questions about themselves as well:
Do you have the patience necessary to potty train a child?

Are you prepared for starts and stops?

Do you have a sense of humor?

Are you starting a new job?

Are you moving?

Are you having a new child?

Are there any new stresses or significant changes in your lifestyle that may impact the potty training process?
If you answered "no" to any of the first three questions or "yes" to any of the last three, it is best to delay potty training until both you and your child are ready. If you feel both parties are ready, here are some techniques and tips to help you in the process.
Getting ready
When you recognize the signs that your child is ready for potty training, initiate a two to three month transition period. Bring your child along shopping and have them assist you in selecting a potty seat. Make a big deal of this to get your child excited. Encourage your child to decorate the potty seat however they like: drawing, coloring, stickers, decals, etc. The most important thing to remember here is to encourage ownership: this is one of the few times when you will be glad when your child says "This is MINE!". Now have your child sit in the seat away from the toilet, fully clothed. Allow them to eat in it, watch television or read books, etc. Have conversations with your child about going to the bathroom and how "big" boys and girls do it. Allow them to watch a parent go to the bathroom, read him or her books on the subject, watch a video together – anything that makes them aware of and curious about the process. During this time, your child will still be using diapers. Rather than simply throwing out dirty ones, take the potty seat, place it on the toilet, and then empty the dirty diapers into it. Bring your child along so that even before they can use the potty seat, they associate the toilet and potty seat with going to the bathroom. Encourage your child to let you know when they have to go to the bathroom. If they have an accident, NEVER scold them. Simply say "Next time, let me know before you go, ok?" or something similar.
Starting Training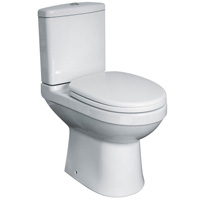 At this point, you should transition away from the use of diapers. Some parents move straight to real underwear, which is fine, but you should be aware that accidents are inevitable, and there will be a lot of extra cleaning necessary. Other parents prefer to use "pull-ups", which combine the utility of a diaper and the look and feel of underwear. Consider your child's preference when making this decision, but either way, transition out of diaper usage.
Whenever you observe the physical signs that your child makes when they are about to go to the bathroom, ask "Do you have to potty?" and then take your child to the bathroom. Some children want a little privacy while others want to read a book. Do whatever makes your child comfortable with the process. Also, get to know your child's bathroom "cycles." For example, a little while after drinking a glass of fluids, bring him/her to the bathroom and encourage them to go. This will also cut down on the number of accidents, which should boost a child's confidence.
As you potty train, realize that most children are "bladder" trained or "bowel" trained first; few become trained at both at the same time. It makes no difference which one happens first – encourage them all the same. In time, both will happen. Also, children will always be daytime potty trained before nighttime. Do not scold or embarrass children when they have nighttime accidents – it is perfectly natural.
Finally, like teaching your child anything, you will find that this is process of starts and stops, ups and downs. Try not to get frustrated, and if you do, never take that frustration out on the child. It will only make the process more difficult for them. Celebrate and encourage every success and you will find the frequency of accidents shrinking over time.
If a child is over the age of 3 to 3 ½ years old and still refuses or is reluctant to use the potty, try to pinpoint the problem:
Is the potty seat secure and stable? Does it pinch? Is your child comfortable sitting on it?

Is your child scared of the toilet? Scared of flushing noises?

Was your child harshly punished or reprimanded for having an accident or refusing to use the potty before?

Is your child generally stubborn and known to cause other types of power struggles?
If you are certain none of these factors are in play, there are known medical conditions, though rare, that may be involved. Consult your pediatrician. Remain patient and try again.
Links and Resources
General Information
Knowing when your child is ready
Choosing a potty seat
Toilet Safety
Common problems in potty training