Bathrooms Showroom Warrington
Telephone: 0844 484 7678 (Option 3 > Option 1)
Address:
350a Wilderspool Causeway
Warrington
Cheshire
WA4 6QP
Opening Times:
Mon - Fri:

8am - 10pm

Saturday:

9am - 5pm

Sunday:

10am - 4pm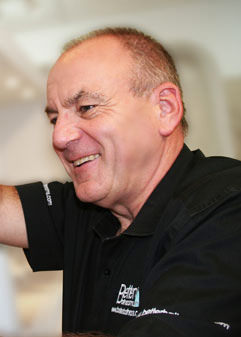 Hi there! Welcome to the Better Bathrooms Warrington Showroom. My name is Ken and I'm the store manager here at Warrington.
After the huge success of the store in Wigan, the opening of a second store was never in doubt. With our distribution centre having just opened in Warrington, it seemed practical to also open a store there! Located just outside the town centre in Stockton Heath, the new showroom allows our customers to come and view our stunning range of suites, baths and furniture, before dropping in at our collection centre to pick up their bathroom purchases the same day!
Being the second Better Bathrooms showroom to open, the Warrington store has had a lot to live up to, especially when following in the footsteps of the Wigan showroom. Although we don't have the beautiful railway arch setting, our store does have the added benefit of an extra floor, which means we are able to pack in even more great deals and offers. In case you can't find exactly what you're looking for in store (we can't show everything!), we also have two dedicated internet terminals where you can surf the Better Bathrooms.com website to see our full and extensive collection.
Finally, when I was asked to write this piece for the website, I was asked what one thing I was most proud of about the Warrington Showroom. For me that was easy and required very little thought, it's the staff we have working here, who offer all our customers superb service and advice when making their bathroom purchases. We sincerely believe in our motto of 'Better Prices, Better Service, Better Bathrooms.
Kindest Regards,

Ken
Better Bathrooms Warrington
Store Manager