Bathrooms Showroom Wigan
Telephone: 0844 484 7678 (Option 3 > Option 1)
Address:
182 Wallgate
Wigan
Lancashire
WN3 4AL
Opening Times:
Mon - Fri:

8am - 10pm

Saturday:

9am - 5pm

Sunday:

10am - 4pm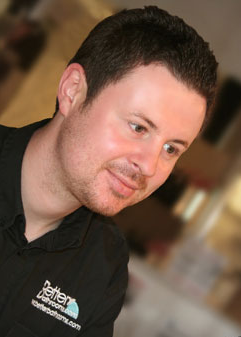 Hello and welcome to the Better Bathrooms Wigan showroom!
I'm Simon, the store manager and I'm privileged to be able to represent the Wigan store here on BetterBathrooms.com.
Our Wigan store was opened back in 2002 and was our very first Better Bathrooms showroom! Located on Queens Street under the railway arches in the heart of Wigan, the store was an instant success with the local residents, which we put down mainly to our great prices, excellent products and hopefully, our superb customer service!
A lot has changed since 2002 but for me, the store has managed to retain the same charm and elegance it had when it was first opened. In that time, we've also managed to continue to bring our customers the very best products at the very best prices.
The Wigan showroom has and always will remain close to my heart, as I've seen it grow and develop over the years I've worked here. The unique nature of its location can never be replicated elsewhere. Our new showrooms, such as the Warrington store, definitely offer something different, but the Wigan store has definitely set the standard for them to match.
Finally if you're in the local area, make sure you pop in and come and view our stunning range of suites, baths, tiles and much, much more. I look forward to seeing you soon and giving you the Better Bathroom you deserve!
Kindest Regards,

Simon
Better Bathrooms Wigan
Store Manager
PS - Be sure to check out our newly recorded showroom video above to see the store in all its glory!