Toilet & Sink Combination Vanity Units
You want to make the most out of the space in your WC, so getting the right toilet and sink combination unit is essential. Our range of compact combination units will help you to maximise the space you have, whilst our white combination units will help you to achieve a timeless and classic design.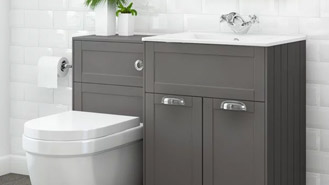 Show More
Our smaller size & cloakroom combination units are ideal for a small bathroom or downstairs loo, but we have sink & toilet units for all sized bathrooms. Basin widths range from the space-savingly petite to larger, luxurious proportions, and the fitted, co-ordinated appeal of a combination vanity unit means that it can add style and practicality to any modern bathroom.
Our combo units are available in left or right handed styles, or as a universal fitting option: this ensures that the unit you love can be configured to fit your existing bathroom layout. It's a simple idea, but one that really helps to take a lot of the stress out of shopping for new bathroom furniture.
And while you're saving money by buying a single item, these sink & toilet units can generally be fitted separately - meaning it's possible to split the pack up and site your basin unit across the room from your toilet if you prefer.
Here at Better Bathrooms, we have a range of basin and WC unit styles, from the bow-fronted Kirkwood to the Aspen with its sleek lines and choice of glossy white or warm walnut finishes. Modern chrome door furniture completes a look that's stylish and contemporary.
With our great prices and the good looks and versatility of these sink & toilet vanity units, we think we've got a winning combination.