Fitted Bathroom Furniture
If you're looking for fitted bathroom furniture that will help enhance the feeling of space in your bathroom, check out our range of fitted WC units and fitted vanity units. These are ideal for people who want to make the most of every inch of space they have, including that area underneath the sink.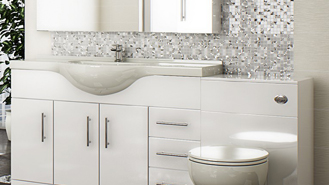 Show More
For the ultimate in coordination and convenience, try fitted bathroom furniture.
A fully fitted bathroom will have a vanity unit, with an inset or countertop basin, and a WC unit, plus any number of storage units and cabinets chosen specifically to complement your bathroom design and your lifestyle. If you keep your laundry in the bathroom, for example, why not include a fitted linen unit for this purpose? And you should always select the storage style that's right for you, whether that be cupboards, drawers, or open shelving.
Often, you will be able to select from a choice of coordinating or contrasting fitted furniture worktops and, to further personalise your selection, you should choose the basin, toilet and brassware that are perfect for you.
Choosing the right fitted bathroom furniture will ensure that you have a range of storage space to suit your needs in a package that suits your interior decor style down to the ground.