Bathroom Storage Units
For most people, a bathroom's most important feature these days is the number of bathroom storage units. Whether you're looking to maximise on the height in your room with our tall bathroom storage units, or you'd like something that's easy to move should you change your mind, like our bathroom floor storage units, we can help.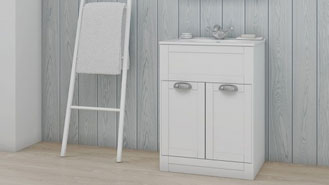 Show More
When it comes to bathroom storage, it seems you can never have too much. A clutter free bathroom is more welcoming and appealing to the eye – and it's better for relaxing in, too.
Our storage units come in all shapes and sizes. As well as our bathroom cabinets, we have a range of wall hung and floor standing storage in finishes from white, to oak, to walnut, which will look good either as part of a fully furnished bathroom or as standalone pieces.
Drawers, open shelves and cupboards combine to offer a range of storage solutions: think about the way you use your bathroom and the kinds of things you store, and choose your storage type accordingly.
Wall mounted storage units are ideal for keeping your bathroom floor clear. This can help with your household cleaning routine, as well as visually enhancing the space available in your bathroom and making the room seem larger.
And tall storage units are perfect in bathrooms where space is tight. They take up only a small amount of floor space and can be tucked away in a corner, but they have the capacity to store an enormous amount. Use your tall cabinets wisely, keeping day-to-day items at around waist to shoulder height and storing infrequent use products and bulk buys out of the way at the top and bottom of the cabinet.