Vanity Units
Do you need some extra space to store your growing skincare collection? Or are your current bathroom vanity units not up to scratch in terms of the storage they offer for bathroom essentials? We have a huge selection of combination and wall-hung vanity units, or under-sink and corner vanity units to help solve your problem.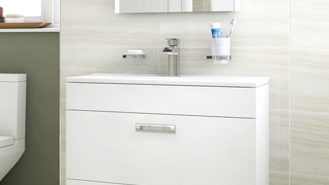 Show More
Bathroom vanity units can be a wonderful focal point for a bathroom. Every family member and guest who goes into the bathroom is likely to use the basin, even if they don't use the bath or the shower; a striking vanity unit should give them each a positive and lasting impression of the room's decor.
At Better Bathrooms, our vanity units are available in different depths and widths to suit most sizes and shapes of bathroom. A slimline vanity unit can be very helpful in making the most of a narrow bathroom; semi-recessed sinks can sit on top and project over the front, so that you get a full size sink on a slender cabinet and, if there isn't the room for this option, smaller or even cloakroom sized basins and vanity units are available too.
Both narrower vanity units and those in more luxurious widths can be teamed with other coordinating units from a range to create a fully fitted bathroom. Alternatively, you can opt for a simple basin and WC combination unit or pair a standalone vanity unit with sanitaryware rather than with other bathroom furniture.
Choose from vanity units with cupboards and internal shelving, drawers, or both, and select your preferred style and finish for the perfect match with your home's interior style: high gloss white (with matching countertops or countertops in contrasting black) is always popular, as are our walnut, wenge and oak finishes.