How Whirlpool Baths Work
In a whirlpool bath, water is drawn from the bath and forced back in through whirlpool jets. The result is a powerful, invigorating effervescence throughout the water, also known as hydrotherapy. The curative and soothing powers of hydrotherapy have been known throughout the centuries, and with all our whirlpool baths, we have combined this knowledge with our own expertise to offer you the very latest in whirlpool technology and systems.
Benefits of Whirlpool Baths
There are 3 things that are important for your maximum benefit and enjoyment:
Heat: in the form of warm water raises the body temperature allowing blood vessels to dilate, resulting in increased circulation, allowing aching and sore muscles to heal.
Buoyancy: supports your body weight and relieves the pressures on your muscles and joints, helping relaxation.
Massage Effect: of mixing air and water and dispersing across areas of your body, gives a gentle deep massage or an invigorating pulsing effect depending upon your adjustment of the controls.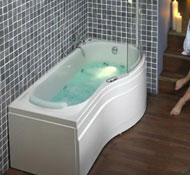 Total Hygiene
After use, conventional whirlpool systems trap large amounts of bathing water inside the jets. This provides a breeding ground for micro-organisms which are then ejected into the fresh water when the bath is used again. Our whirlpool systems feature optimum drain down systems to ensure as much water as possible is drained from the bath, ensuring it stays fresh and dry until the next use.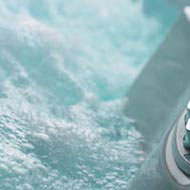 Whirlpool Bath Video
See one of our whirlpool baths in action in this video.
Specifications:
Various sizes available
Straight, corner, round and double-ended baths
Whirlpool Pump & Pipework is included
Optimum Drainage System to ensure Hygiene Standards
Whirlpool Systems are manufactured in the UK
Quality Assurance - Manufactured to ISO9000 Standards
Come with tap holes undrilled, allowing free choice over tap style
Do Not Include Taps, Wastes or Bath Panel