Wet Rooms
More and more people are using wet rooms as a way of getting the best use out of an otherwise small bathroom. Shower trays for wet rooms can easily be designed to fit flush with the surrounding tiles, whilst you can buy wet room shower screens that will give you division, whilst containing the water flow.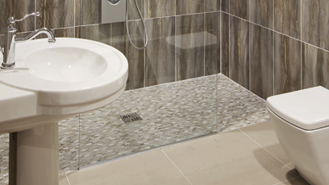 Show More
Our selection of shower screens, shower trays and waterproofing kits really cater to creating wet rooms to suit any budget. Wet rooms are ideal for their space saving appeal while adding a contemporary look to any bathroom. We sell everything you need to turn existing bathrooms into wet rooms or to revamp a current wet room.
Taking away the bath from the bathroom, wet rooms instantly add extra space to a bathroom and their open plan look creates the illusion of a much larger sized bathroom, even if you find your bathroom or en suite is on the smaller side.
Wet rooms have become increasingly popular due to their easy clean and their super-stylish presence. They act as a bold centre piece to any bathroom – be it modern or traditionally styled! Another reason behind the appeal of wet rooms is their at-home spa-like appearance – so they are certainly ideal for those who want to add an instant element of luxury into the bathroom.
We sell fantastic value shower screens for wet rooms to ensure the water stays within the vicinity of the shower area and our water proofing kits protect any water sensitive areas in the room. For those looking to completely revamp their bathroom, our huge range of elegantly designed basins and taps will perfectly set off the spa-like appeal of wet rooms.