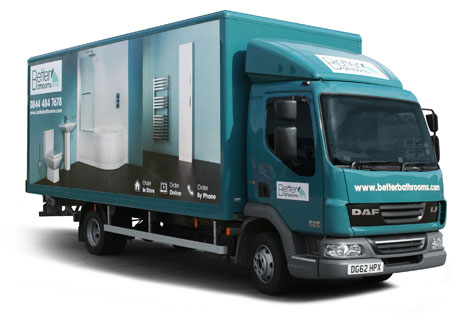 Fuss-Free

Delivery Straight Into Your Home!

Get your Bathroom & Tile products delivered straight to your home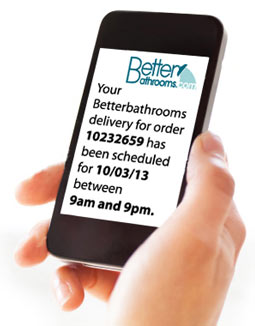 Arrange Your Delivery The Day Before You Want It!
Delivery can take place between 8:30am - 8:30pm
weekdays & 8:30am - 5:30pm on weekends**
Clear Communication!
Our new service aims to provide you with clear communication as to when your delivery will take place. We understand that having to wait in all day and take time off work for a delivery is inconvenient, which is why with our 2-man delivery service,the night before your delivery, you'll receive a 2 hour time slot in which your order will arrive. On the day of your delivery, you will also receive a reassuring call from your driver to let you know he is on his way.
Should the date we provide you be inconvenient, you don't even have to pick up the phone. You can simply text or email back to us letting us know your slot isn't suitable and we will provide you with a new one automatically.
Delivery 7 Days a Week
We are also really pleased to be able to offer delivery 7 days a week with our new premium guaranteed and next day delivery services. If time off during the week is completely impossible, you can now even book your delivery in for a Saturday or Sunday. Simply select the guaranteed day or next day option at checkout and select the day you require. We can even deliver on bank holidays!
Sounds good?! To see if your delivery is eligible for our new 2-man service, simply refer to our postcode reference below. Don't worry if your postcode isn't currently covered, all our deliveries get the same due care and attention and we set the standards for our courier companies extremely high, so you have piece of mind that your new bathroom will arrive safe and sound.
This service is available in the following post codes:
M,
WA,
L,
WN,
PR,
BB,
LL,
CW,
BD,
SK,
HX,
OL,
LS,
S,
HD,
CH,
ST,
WF,
TF,
SY,
FY,
BL,
B,
CV,
DY,
WS,
WV,
NG,
DN,
DE,
LE