It's easy to upgrade your bathroom decor with our exclusive range of bathroom accessories. We have colours to match your style and designs to suit your taste, so you can enhance your favourite room of the house with ease… and start boogieing in the shower again. But less of our rambling. It's time to transform your room without removing a tile. Are you ready?
Shower accessories
Shower speakers
Singing in the shower is the ultimate guilty pleasure. But it's even better with a Bluetooth shower speaker. Pump your favourite tracks through your bathroom speaker and sing into that loofah – we won't judge you.
Bathroom caddie
Organise your essentials and keep your space neat and tidy with our handy range of bathroom storage. Whether you're after a shower basket, or a white, black or stainless-steel shower caddy we've got you covered.
Towel rack
Hand towels and bath towels need somewhere to hang for storage and to dry, and that's what makes a towel rail or towel ring a staple in any bathroom. Choose from a wall mounted towel rack or a small towel rail – we've got you covered.
Bathroom hook
A bathroom hook offers instant style and functionality. Whether you're after a robe hook or a towel hook, we've got perfect solution.
Basin accessories
Tooth brush holder
Looking for a wall-mounted or freestanding toothbrush holder? We hear you. Browse black, chrome or white tooth brush holders in different shapes and finishes.
Soap dish
Keep your soap to hand, with a wall-mounted soap dish. Or, discover our elegant range of traditional soap dishes, designed to sit stylishly on the edge of your sink.
Mirrors
Looking for Hollywood glamour? Then browse our illuminated bathroom mirrors, whether you're applying makeup or checking yourself out, our stunning range is here to help. Not your thing? Here's our full mirror collection.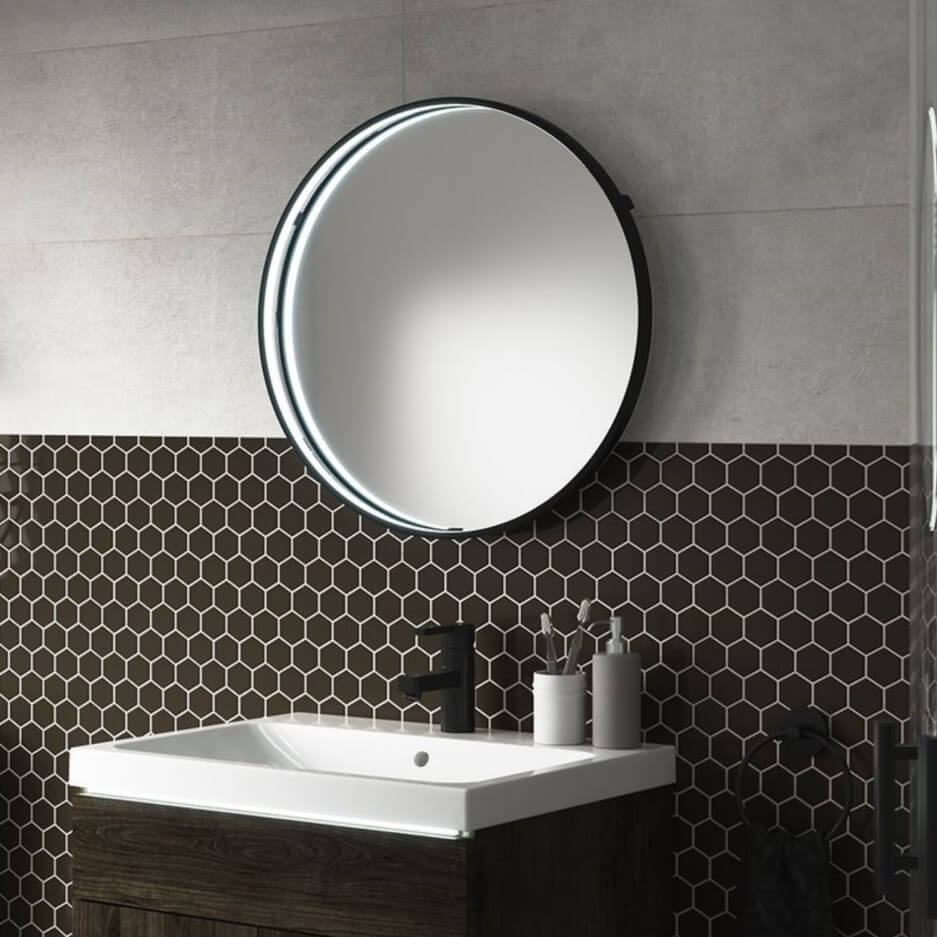 Sensio Aspect bathroom mirror.
Shop the Sensio range.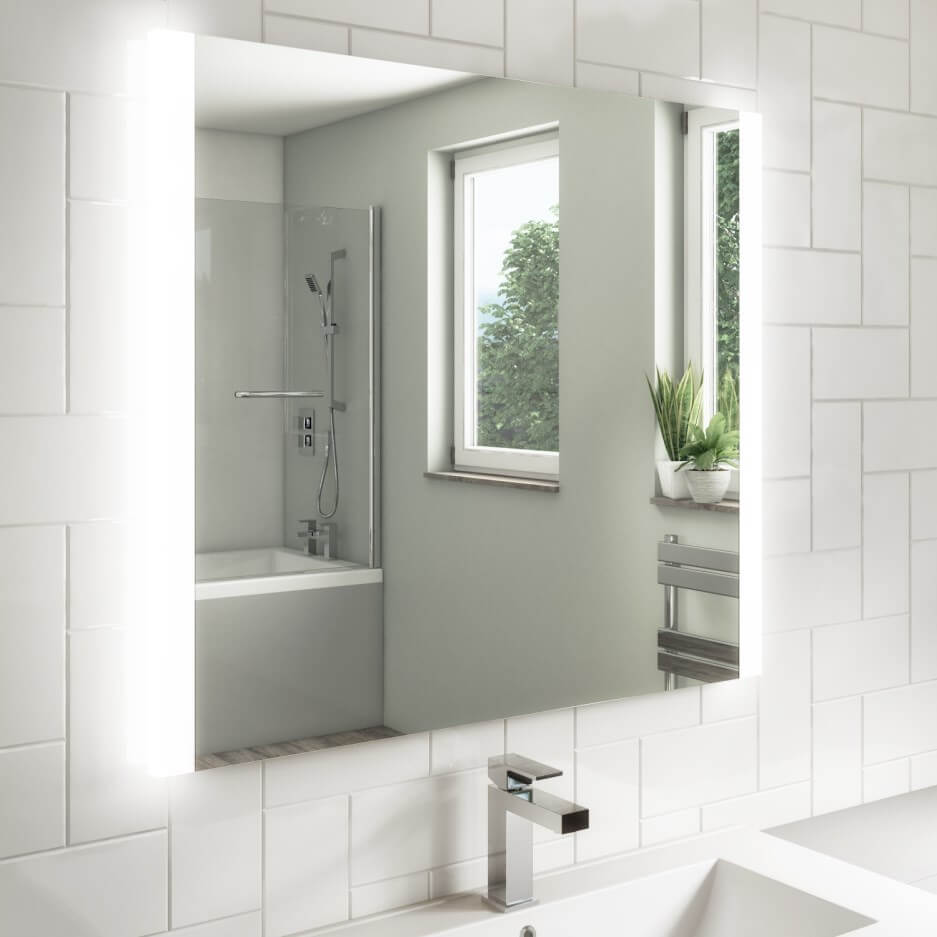 Pegasus LED bathroom mirror.
Shop the Pegasus range.
Toilet accessories
Toilet seats
When it comes to seats, we've got plenty of styles to choose from. So, you can find the perfect finishing touch for your throne room, whether it's a wood effect, slim design or even a soft close toilet seat.
Toilet roll holder
Perfect your style down to the smallest detail. Finish your look with a complimentary black, chrome, white, grey or bronze toilet roll holder.
Bathroom Accessory Sets
Choose a bathroom accessory set to achieve that complete look and master those final adjustments to your room. From towel rings and toilet roll holders to toilet accessories such as toilet brushes, our sets provide the vital finishing touches for your design.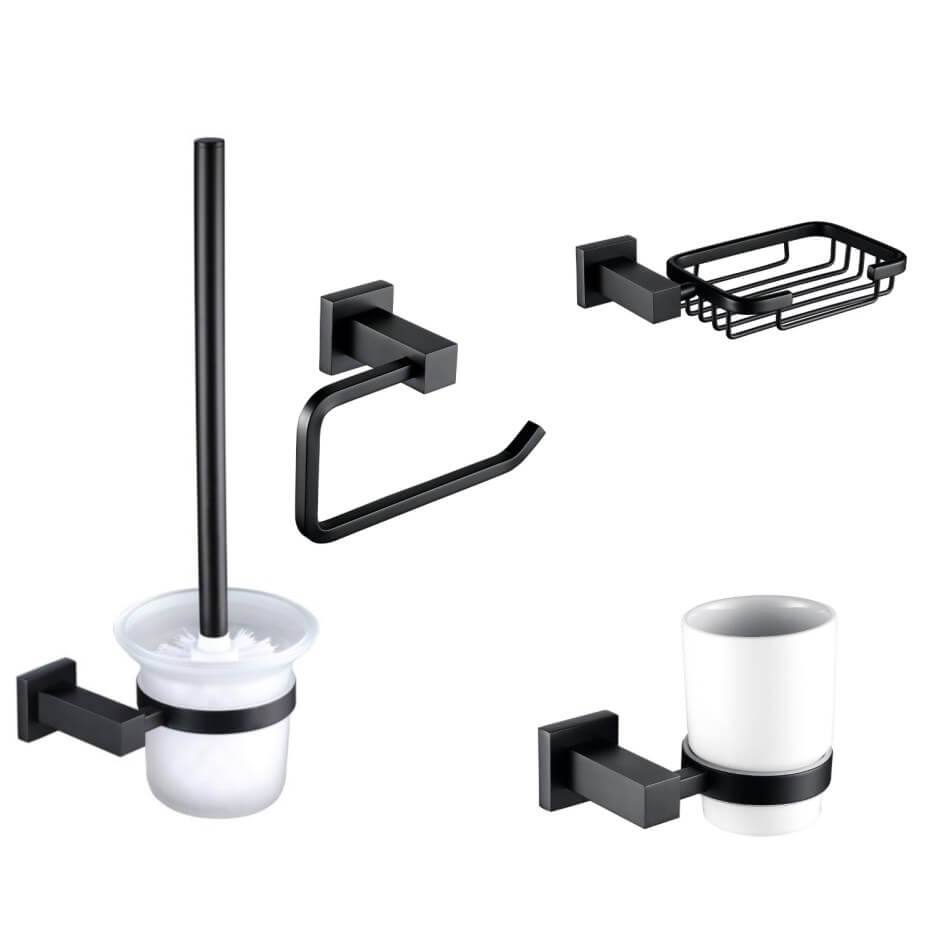 Black 4 piece bathroom accessory set.
Shop Arissa accessory sets.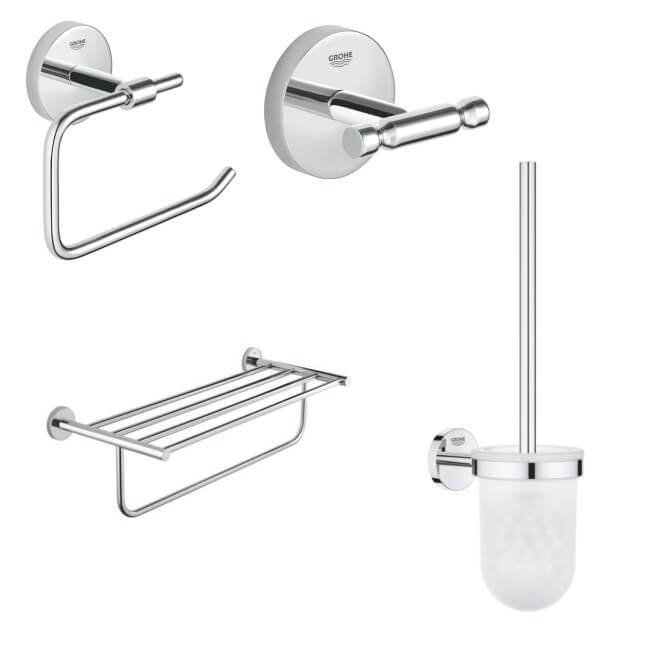 Grohe 4 piece bathroom accessory set.
Shop Grohe accessory sets.
The next steps to a gorgeous bathroom transformation
Now you know how to enhance your space with bathroom accessories, you're ready to start your stunning bathroom makeover. For more inspiration, head over to our splash-tastic Pinterest page, filled with stylish and innovative ideas. You can also follow us on Pinterest or Instagram. Or ask for help from our lovely advisors.