How Much Will My Delivery Cost?
Delivery costs vary based on item size and delivery address. Even if your order contain various item sizes, only one delivery charge will be applied.
Postage items
Single small accessories
or wastes
e.g. Toilet roll holder, robe hook, towel rail, soap dispenser, push button waste
Small Parcel items
Two or more accessories plus all small items
e.g. Tap, shower head, mirrored cabinet
Medium items
Mix small &
medium items
Includes radiators over 1500mm and two or more standard sized radiators
Large items
Mix small, medium &
large items
Includes baths, bath panels, toilets, basins, shower enclosures, furniture
Zone 1 - Most of UK mainland
Delivery zones
£3.99


Plus £4 for Next Day Delivery*

£7.99


Plus £2 for Next Day Delivery*

£19.95


Plus £5 for Next Day Delivery*

£29.95


Plus £15 for Next Day Delivery*

Zone 2 - Northern Scotland, Scottish Highlands
£3.99


Plus £4.99 for Next Day Delivery*

£7.99


Plus £4.99 for Next Day Delivery*

£40.99
£69.99
Zone 3 - Isle of Man, Isle of Wight
£13.99
£17.99
£65.99
£80.99
Zone 4 - ROI, Northern Ireland
£13.99
£17.99
£129.99
£129.99
Zone 5 - Channel, Orkney & Shetland Islands
£23.99
£27.99
£130.99
£148.99
Delivery Zone Map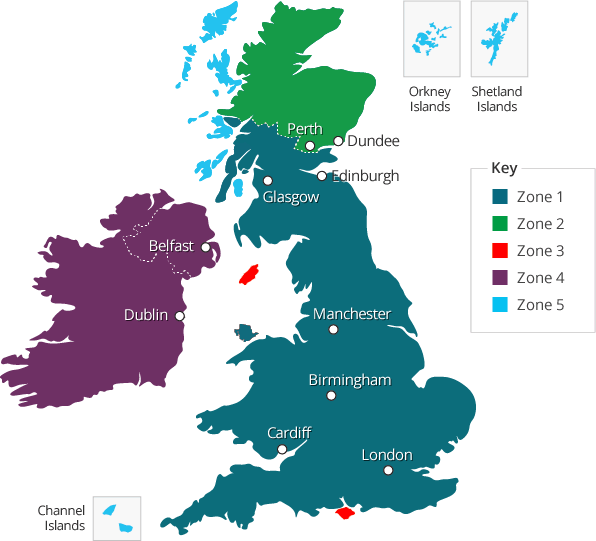 Customer Delivery Feedback

"Excellent service. My order arrived ahead of time and was altered to a Saturday delivery with no questions asked, would use again."
Lee Connor

"I like the way Better Bathrooms constantly let you know what is happening and where your order is in the system. We would recommend them to anyone."
Julia Weston

"Tracking the order was easy, and delivery efficient, giving regular updates on times etc. All the goods were well packed. Great service."
Kenneth Fulker
Delivery FAQs
---
How long will it take for my items to arrive?
Stocked items are normally available for next day delivery to all UK mainland addresses. Delivery lead times may vary dependant on type or stock availability. Please check individual items for estimated delivery lead times.
How will my order be delivered?
Parcel items will be delivered to you via a parcel service. Small & medium items will be delivered by a 9am to 5pm courier service. Large items are delivered on a pallet to the kerbside, you'll need assitance to take the items into your house. Please refer to our notes on palletised delivery below.
Can I choose a delivery date?
For the majority of UK postcodes, you can choose your delivery date if you are ordering large or medium sized items. If your order contains large or heavy items and your postcode is covered by palletised service, you will receive a text message from us the night before your delivery to confirm your delivery date and a timeslot on the day of delivery. Unfortunately, for deliveries made by our third party couriers, we are unable to provide time slots and deliveries are all day appointments.
I have another question...
Not a problem! Our award winning customer service team are available 6 days a week. We're on hand and ready to assist you with any product or delivery questions you might have. Feel free to give us a call on 0871 244 0935.
Important Information
Please note we do advise not to book plumbers or installers until you have all the goods in your possession in perfect condition. This is to avoid any unforeseen delays especially if the installer is ready to start work.
Please ensure you report any damages to our Customer Services Department within 7 days of delivery.
Please ensure you document any missing items on the delivery note and/or the handheld device and report them to Customer Services Department within 48 hours of delivery.
Please note all claims will be investigated before a replacement is authorised. Once a replacement is confirmed, we will ensure the product(s) are replaced free of charge with the minimum inconvenience to yourself.
Palletised Deliveries
For palletised deliveries, the goods will be delivered as close as possible to your front door. If this location is unreachable for any reason, such as a narrow street, up a flight of stairs (such as flats), or any other obstruction, delivery will be made as near to your property as possible. The driver is NOT insured to take the goods inside your property. It is strongly recommended that at least 2 able bodied persons are available to receive the delivery and carry the goods inside. Any deliveries that are fulfilled by a 3rd party courier will be a kerb side delivery. A day for delivery will be booked in prior to a delivery being made.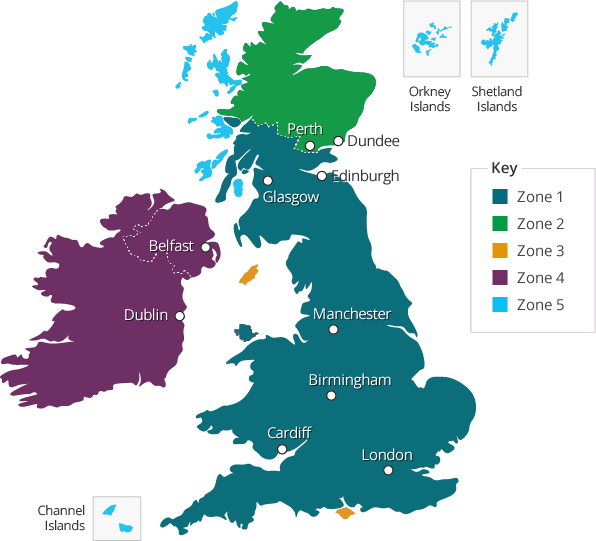 Parcel items
Small items
Medium items
Large items