Short on shower ideas? Full of questions? Let us help you out! Take a look at our handy guide to showers and your bathroom or shower room will be kitted out in no time.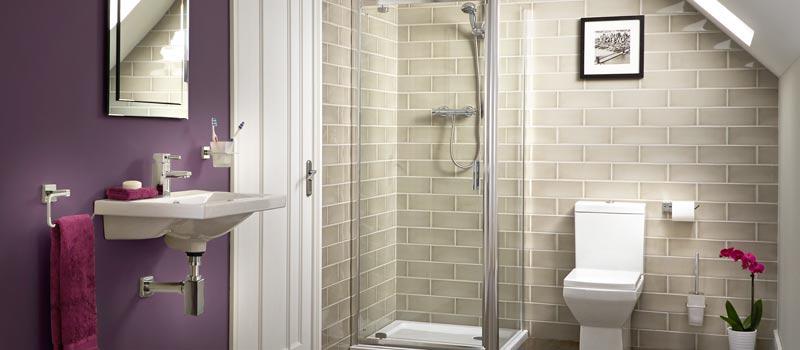 Why Choose a Separate Shower?
If you've got room for a separate bath and shower (or you've decided to lose the bath), a standalone shower enclosure is a great choice. Available in sizes from a bijou 700x700mm square up to a whopping 2000x1000mm, shower cubicles offer a relaxing shower experience and are the best choice to keep your bathroom floor free of drips and spray, too.
What Shape Should I Go For?
Quadrant enclosures can be helpful additions if space is limited: their curved shape minimises the amount of floor space they take up, but they still manage to feel relatively roomy inside. One of our favourite shower ideas is embodied by the AquaFloe 1200x800 offset shower cubicle (7614): quadrant showers don't have to be the same length along both walls, so even if your space is somewhat less than symmetrical, you should be able to find a curved enclosure to suit.
Square and rectangular enclosures and trays remain popular, however, and often the choice between curved or angular shower cubicles comes down to personal preference you may prefer to coordinate your shower cubicle with your basin and toilet, for example. A similar range of sizes is available in either style.
á á á
áá
And What Style of Door Might Suit Me Best?
A selection of door types, from pivot and bi-fold to sliding and hinged, allow for easy access to the cubicle itself. You should give some thought to the amount of space in your bathroom if you're thinking of choosing an outward opening door; in a small space, pivot and bi-fold doors are often the most suitable.
Should I Go For a Walk In Enclosure?
Walk in shower enclosures have two sections: a showering area and a drying area (often equipped with a stylish wooden duckboard). The two are partially separated by a curved or angled section of shower panel, and they have no door.
This type of enclosure is the closest you can come to a wet room shower experience without waterproofing your whole bathroom so if that idea appeals to you, why not take a look at our range of walk in showers? As well as standard walk in enclosures, we have a selection of recess shower packs (8595-7), which will allow you to transform a recess in your bathroom into a little piece of showering heaven.
What Style of Shower Tray is Better?
A selection of shower trays is available to suit most models of shower enclosure, granting you a choice of shower tray material (cast resin being a popular, hard wearing option) and style (low profile trays look good and minimise your step up into the shower; easy plumb styles provide space to conceal pipework above floor level).
I Like To Bathe As Well As Shower But I'm Short On Space. Is There a Product For Me?
If your bathroom is too small to accommodate a separate shower and you do want to hang onto your bath, a shower bath could be the ideal solution. Although a shower can be fitted over any bath, shaped shower baths have been carefully designed to ensure the most spacious shower experience possible.
L and P shaped shower baths are available in a similar selection of sizes: the shower area in a P shaped shower bath is curved, while the shower area in an L shaped shower bath is angular.
Suitably shaped shower screens with rubber seals protect your bathroom from leaks and spray while you're showering; many screens can also be folded right back to the wall out of the way when the shower is not in use.
Our extensive selection of shower baths includes L shaped baths in a range of lengths to suit the proportions of your bathroom; each bath can be bought with either white or walnut panels, or even without panels, allowing you to tile the side of your bath so that it perfectly coordinates with your room scheme.
We hope you enjoyed our guide to shower ideas. If you would like to browse the products featured you can browse our range of showers here.