Speak to a Trade Manager now on 0871 244 0935

Email us at trade@betterbathrooms.com
Benefits of the Trade Scheme?
---
The Better Bathrooms Trade Account Explained
---
Membership Pack
When you become a Trade Account holder with Better Bathrooms, you will receive a membership pack that details all of the benefits and rewards that you are now entitled to, as well as your personal Points Reward Membership Card. The membership pack is designed to welcome you on board, give you all of the information you need about your personal account and to help you get started as a Better Bathrooms Trade Account holder.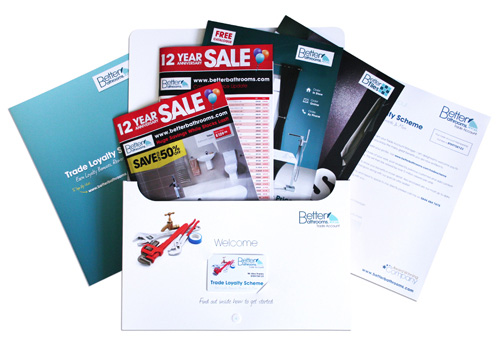 ---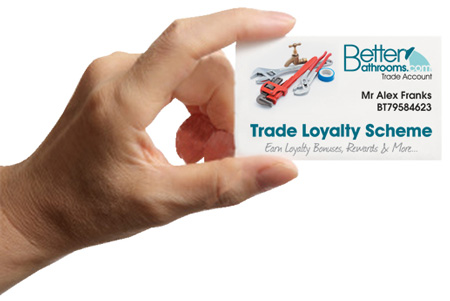 Points Reward Card
The Points Reward Card that will be included in your membership pack is what you will use to earn your reward points. It will also feature your personal account number, so that if you ever need to contact us, you can get through to your dedicated account manager in the most simple and direct way possible.
---
365 Day Exchange Policy
As a Trade Account holder, you will be entitled to take advantage of our exclusive 365 Day Exchange Policy, to ensure that even if your bookings change, Better Bathrooms is always on your side.
Priority Dispatch
As a Better Bathrooms Trade Account customer, we know how important it is that you receive your orders in a timely and efficient manner, so we offer priority dispatch to our account holders so that you know precisely when your purchases will be with you.
No Quibble Return Policy
Returns made easy, a hassle free way to return or exchange your products
Dedicated Delivery
To help you organise your work schedule in the most convenient and efficient way possible, as a Trade Account Holder you will be able to take advantage of our Dedicated Day Delivery service, which allows you to choose the specific date you wish to receive your order.
---
Dedicated Web Page
Your dedicated Trade Account web page will provide you with the most direct method to order from Better Bathrooms and you will be able to see a summary of your account usage, your previous orders, and how many reward points you have in the bank! You will also be able to manage your company profile, including your latest projects and review your customer leads.
Don't Miss Out On 5,000,000 Visitors Seeing You Per Year!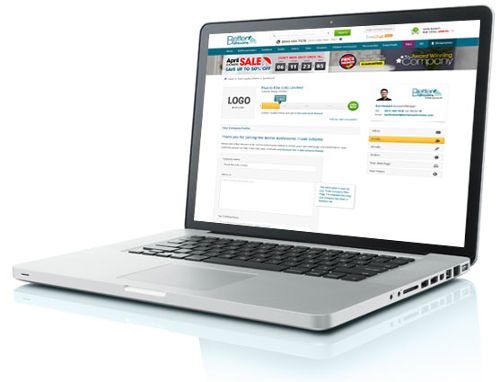 ---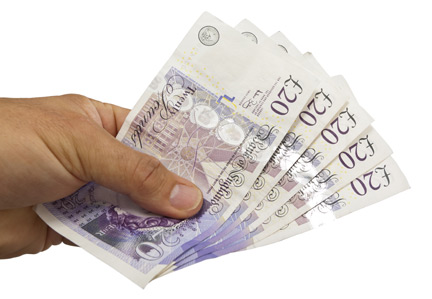 Rewards Cash Back
Our Trade Loyalty Point scheme is designed to reward you for holding an account with us, and to create the most beneficial relationship between our company and yours. For every £1 that you spend with us (excluding VAT), you will earn 1 reward point and for every 10,000 points you earn 5% loyalty*
*Subject to terms and conditions
---
Onsite Reviews
By leaving reviews of the products you have purchased through your Better Bathrooms Trade Account, you will have the opportunity to become a Bronze, Silver or Gold Reviewer, which is another way that the name of your company can appear on our website, which receives millions of views every year. The more reviews you leave, the more visible you are!
Exclusive Promotions & Offers
As a Trade Account holder, you will receive specialist trade promotions. You will also receive a monthly catalogue, to keep you fully informed about all of our latest deals and offers, so that you can always find the best value products, whenever you need them.
---
Dedicated Account Manager
To offer you the most consistent, personal and hassle-free service, you will have your own dedicated account manager who will be the person you speak to each and every time you call. This will make ordering, making enquiries and accessing your entire account history with us much easier. We want your relationship with Better Bathrooms to be as straightforward and simple as possible, so that you are free to focus on what really matters, which is growing your business. To make sure you have the most up to date information possible, you will also receive a monthly account summary via text message or email, so that you always know exactly, to the penny, where you stand.