If you're revamping your bathroom and considering buying a shower, you've come to the right place.
Our handy buying guide explains everything you need to know and more about enhancing your home spa. Water pressure? It's covered. Valves? We've got them. Heads? You guessed it; they're explained.
Make yourself comfortable and prepare to learn. We're going to dive straight into one of the most important (and overlooked) factors: your water heating system.
Water heating system
Before you purchase anything for your bathroom, stop. Instead, start by learning which water system is installed in your home to ensure you choose a compatible shower system. The three main types are:
A combi boiler
These handy boilers heat water on demand. They offer the highest possible water pressure, which suits most shower systems. A power shower is the only incompatible system because it won't work with a pressurised water supply.
A gravity fed system
This system often features a cold-water tank in the loft and a water cylinder in an airing cupboard. Gravity-fed systems are compatible with all types of showers, including electric. However, you may need to add a shower pump if your home suffers from low water pressure. To calculate this in bars, just measure the vertical distance between your cold-water tank and shower outlet in meters. Then, divide this by 10. Voila.
An unvented heating system
These systems heat large volumes of water under high pressure in a separate cylinder. They're compatible with most shower systems, but again, you may need to add a pump, depending on the water force.
Water pressure
We've touched on the water pressure already. But in all seriousness, this will impact massively on your choice of shower and overall bathing experience. Before buying anything, we recommend learning how many litres per minute your system is pumping out – read a free, DIY method in our shower pump blog. This is the difference between a trickle or a tidal wave erupting from your shower head.
Shower valves and controls
Next up: valves. There are two types of valves, concealed and exposed. And the one you choose is a matter of style and space. Take a look.
Concealed shower valve
Concealed valves are stylish and space-saving. Pipework is hidden within a wall for a seamless finish, with only the control panel on display. If you choose a fixed head, it fits to a wall or ceiling arm, while the shower hose fits to a wall elbow and connects to your handset.
Exposed shower valve
Exposed valves are simple to install and highly cost-effective. They sit flush against a wall while the working parts (like the pipes and shower hose) attach directly to the valve. There are plenty of designs to choose from, with a bar valve being the most popular.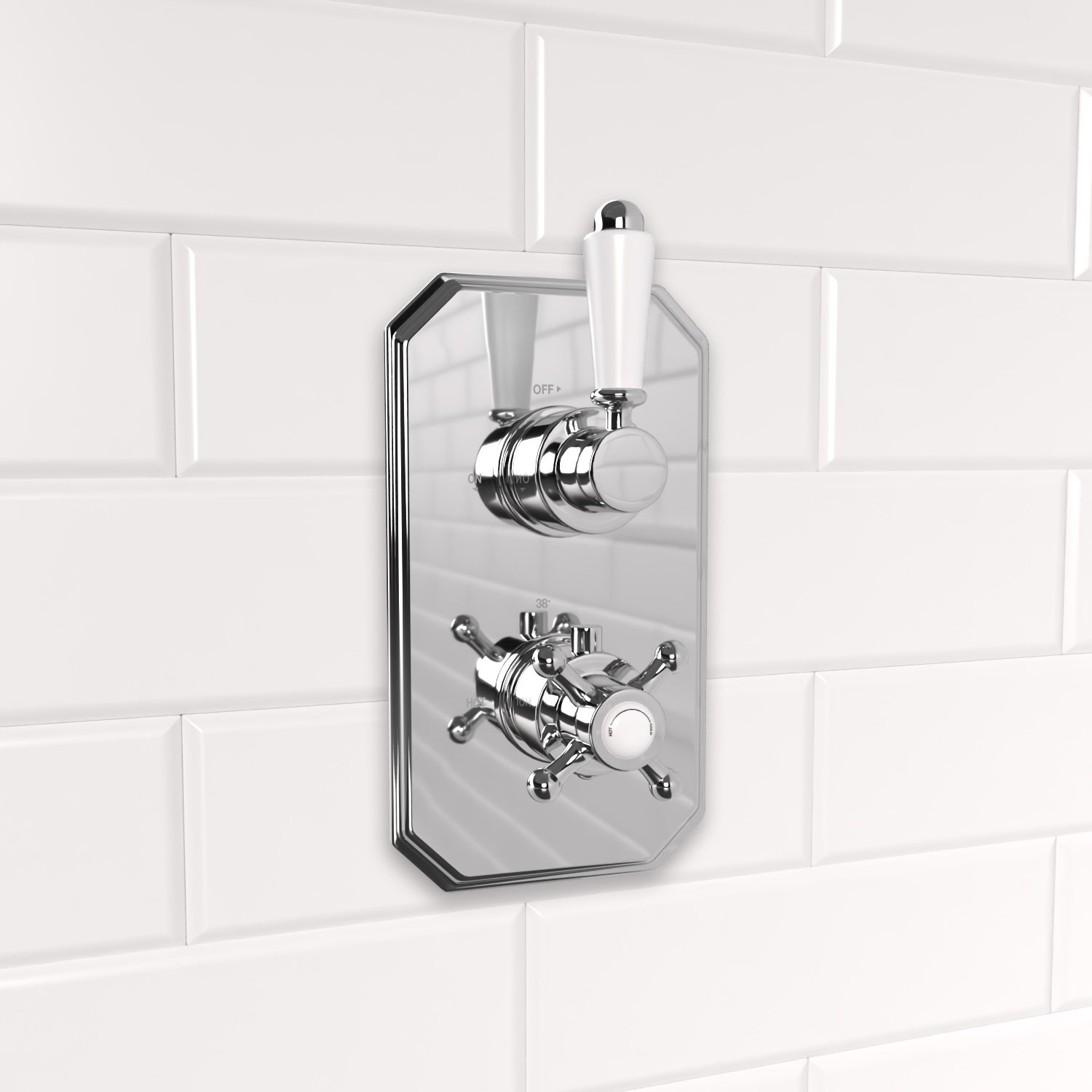 Traditional single outlet concealed shower valve.
Range featured: Cambridge.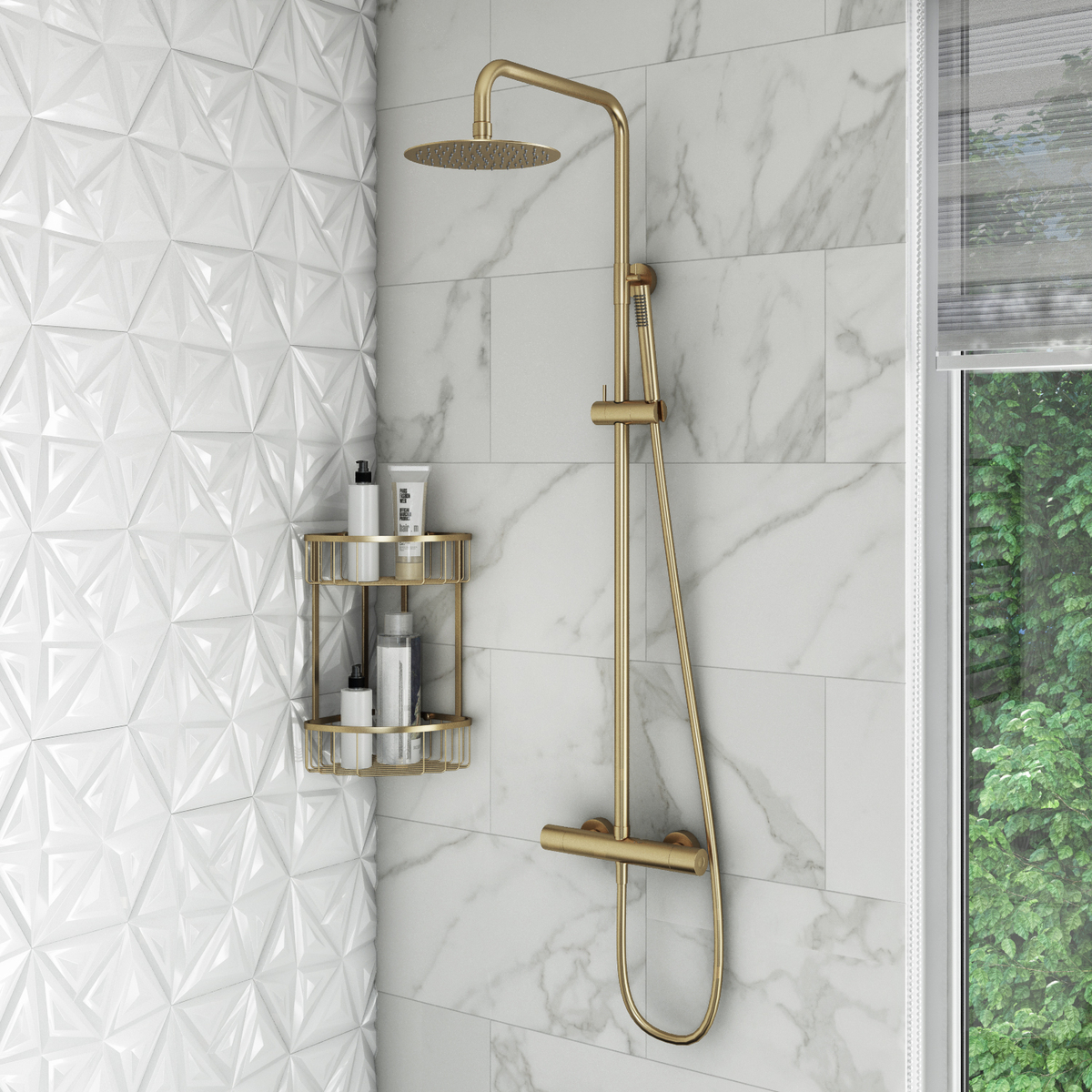 Modern bathroom with brass shower with exposed valve and corner caddy.
Range featured: Arissa.
Shower systems
Right, let's get down to business. Here's the section you've been waiting for; the different types of showers. There are two main types of systems with varying features, functions and benefits. And both can be fitted over a bath or in an enclosure.
Mixer showers
Thermostatic Showers
A thermostatic shower allows you to set a water temperature. It'll remain within two degrees of this unless you manually change it by twisting a handle. These showers require a balanced water pressure for optimum performance and separate hot and cold-water supplies. They're also incredibly safe due to a built-in anti-scald valve that eliminates the risk of burns or shocks. If you live with children or have an intolerance to heat, we recommend one of these.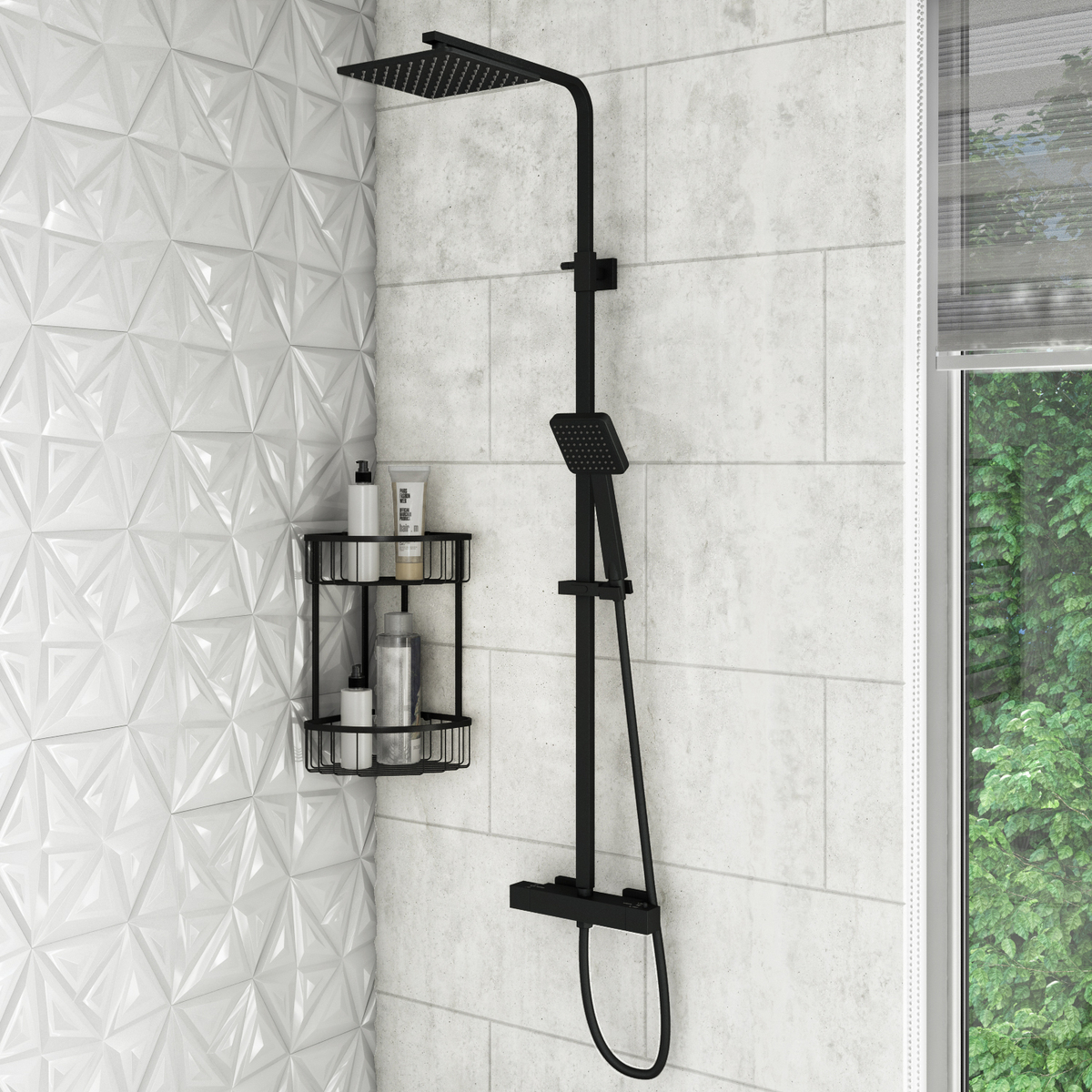 Modern bathroom with black thermostatic shower and matching corner caddy.
Range featured: Zana.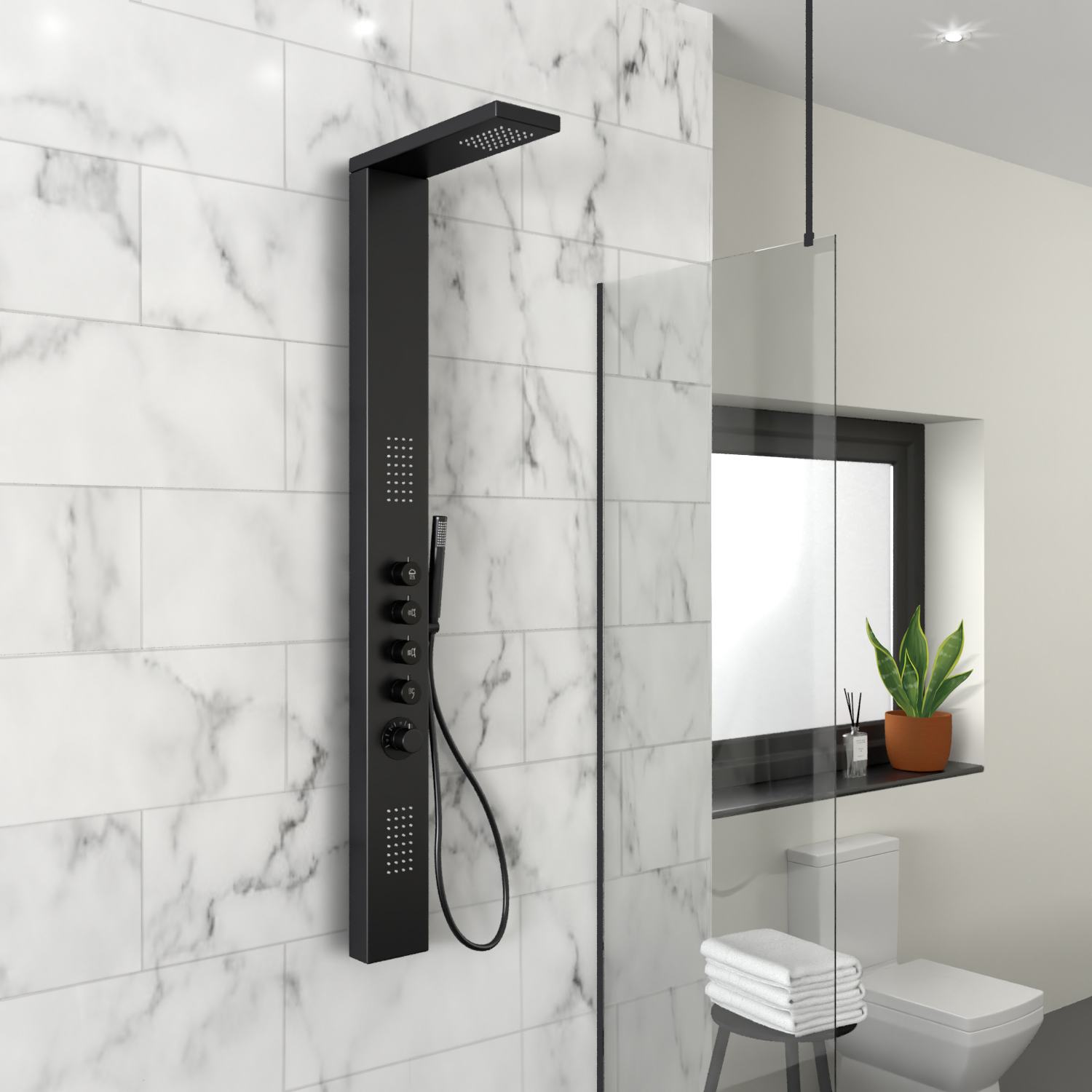 Modern walk in shower with black shower tower.
Range featured: Provo.
Shower Towers
Shower towers are sleek and stylish; they require hot and cold water supplies and steady water pressure. The shower head, body jets, hand shower and controls are combined within a single column, neatly concealing the fixtures and pipework. They're available in different colours, styles and finishes, with varying numbers of body jets. You can even opt for a thermostatic shower tower.
Digital Showers
Digital showers let you accurately control the temperature and flow rate. And some incorporate nifty features like an eco-mode to help you save water. Another type of digital shower is a smart shower; these intelligent designs are either controlled by an app or connected to a smart home hub and changed by speaking to Alexa or Google.
Manual Mixer Showers
A manual mixer shower works just like a bath mixer tap. It requires separate hot and cold water supplies and a balanced water pressure for optimum performance. But if it starts to struggle, see if your water system can support a booster pump.
Electric Showers
You can incorporate an electric shower into any domestic water system. These nifty devices produce hot water instantly from a single cold-water feed and are incredibly easy to install. They save you money by heating water on demand and state a minimum bar water pressure for the best experience.
Power Showers
Power showers are incredibly popular. As the name suggests, they have a powerful flow rate thanks to the built-in pump. But unlike traditional electric showers, they require hot and cold-water feeds from a water tank. If your home struggles with low pressure from storage tanks, we highly recommend one of these.
Shower Heads
Last, but by no means least, is the shower head. Each head delivers a different experience, so it's worth taking some time to carefully think about your preferred style and the way you plan to use it. There are three main designs:
Fixed shower head
Fixed heads are attached to a wall or ceiling arm. These space-saving devices conceal the pipes and plumbing components within the wall for a clean finish. One of the most popular wall-mounted designs is the waterfall shower head, which delivers a refreshing top-down drenching experience – just like you're standing under a waterfall.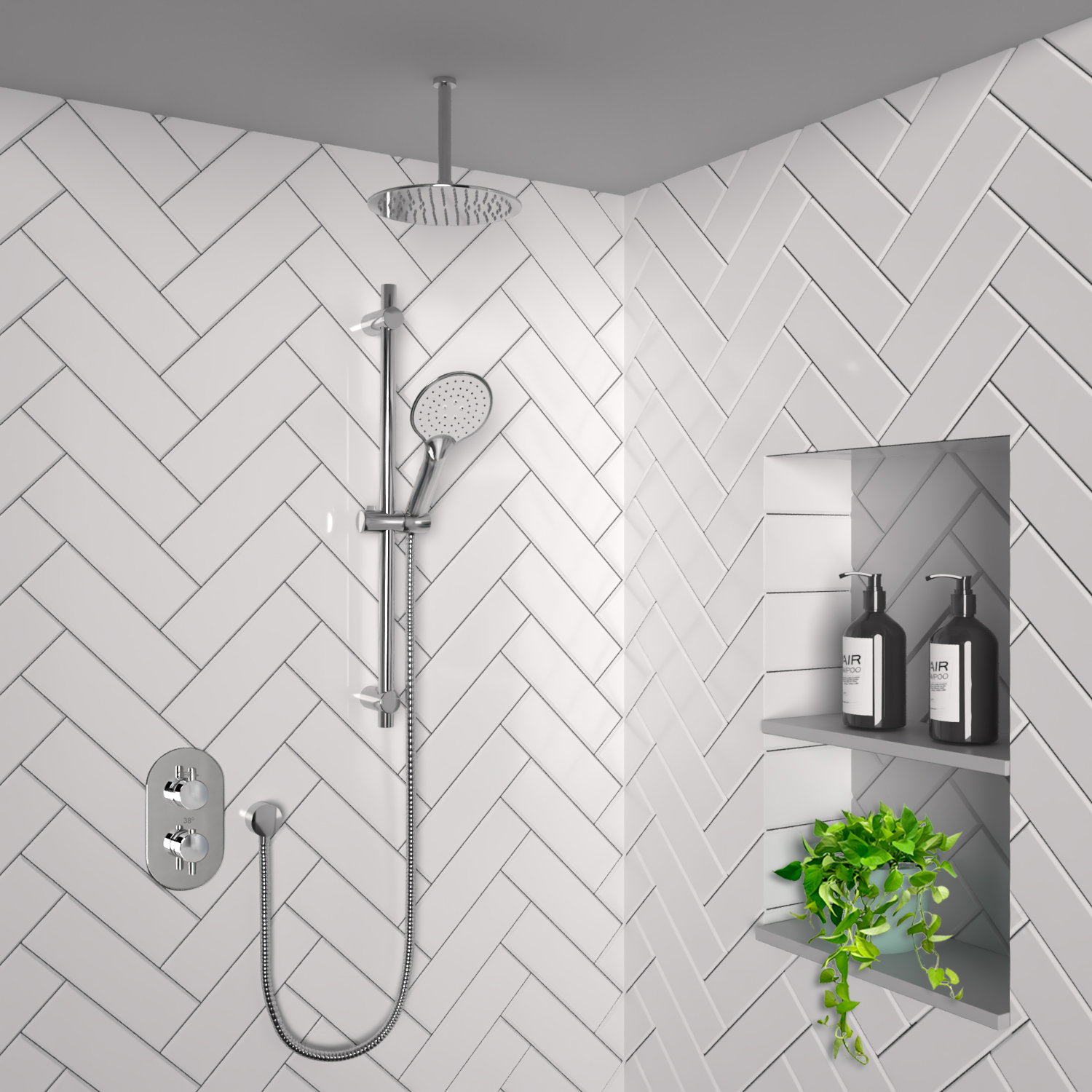 Concealed shower with ceiling fixed shower head and slide rail kit.
Range featured: Flow.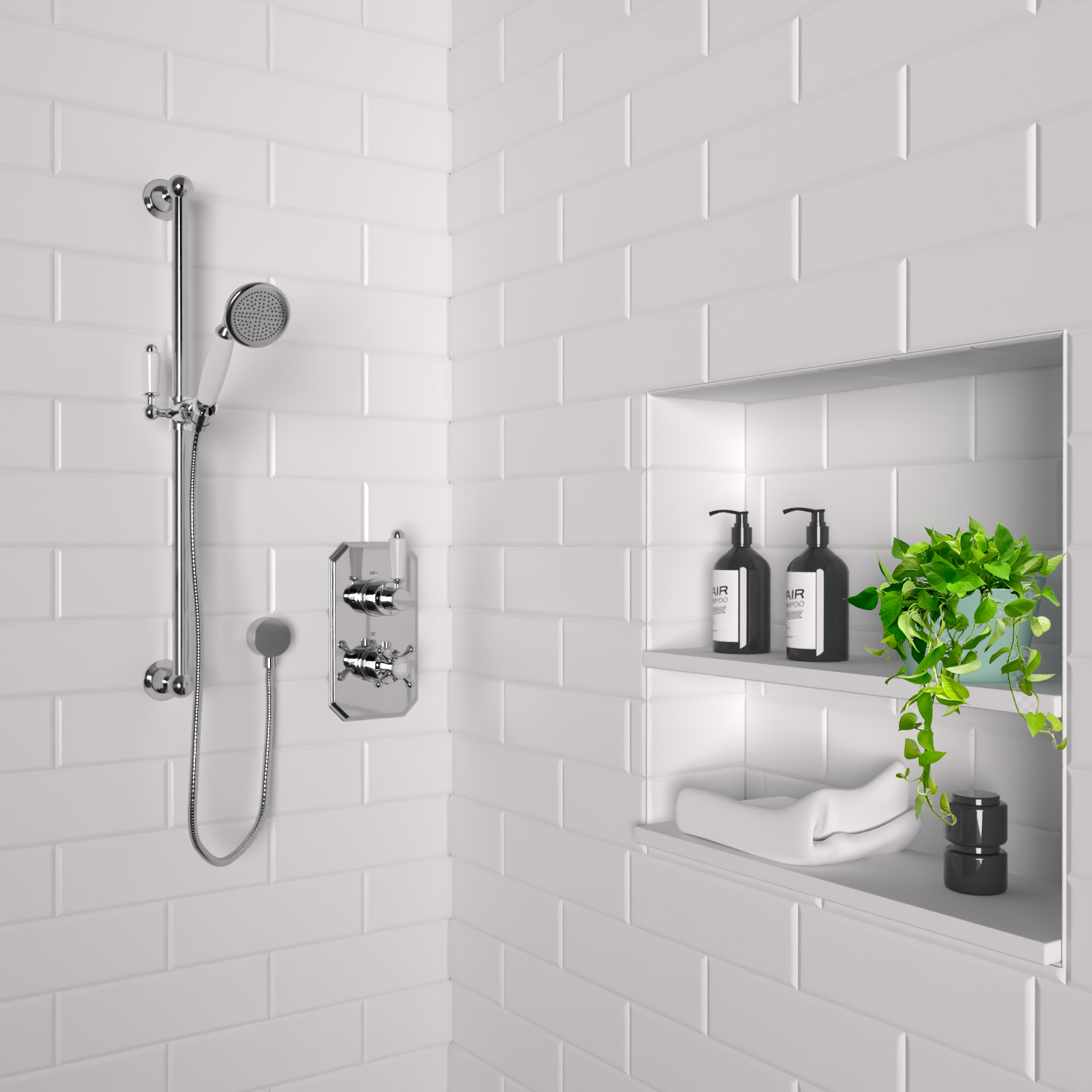 Traditional concealed shower with slide rail kit.
Range featured: Cambridge.
Slide rail kits
Slide rail kits, also known as riser kit shower heads, are popular in family homes. They feature a fixed rail and slider bracket, which allows you to quickly and easily adjust the height and angle of the removable handset. These designs are incredibly versatile, as the head incorporates multiple spray patterns and can be easily detached, so you can wash your hair or clean the bath or enclosure with ease.
Shower sets
Shower sets are sometimes referred to as a rigid riser kit. These offer the convenience of a slide rail kit with the sleek appearance of a fixed shower head. The handy diverter lets you choose between the fixed shower head for a heavenly bathing experience or the detachable head to quickly wash your hair or clean the bath or enclosure.
Top tip
Before committing to a specific shower, there's one last thing to bear in mind: the size of your space. If you're renovating a small bathroom, an adjustable slide rail kit may be better suited than a fixed or rain shower head. Or, if you're after a shower that sits over your bath, double-check the water will be projected into the standing area and not the taps.
Parting advice
And there you go; we hope you're one step closer to finding the best shower for your bathroom. Looking for coordinating accessories? Then take a peek at our wide range of shower baskets, waste covers, shower seats and more. And if you have any questions, just call our experts on 0871 244 0935.