Its December, the traditional time for top ten lists! so here we go with our top ten bathroom colour schemes.
Monochrome
An enduring favourite, this bold style suits period and contemporary bathrooms equally. Its also simple to achieve, with a wonderful range of jet black tiles available to contrast with beautiful white bathroom suites or white bathroom furniture such as our luxuriously proportioned white vanity basin.áAdd in some shiny chrome waterfall taps and accessories to create a look thats bold yet simple and very, very stylish.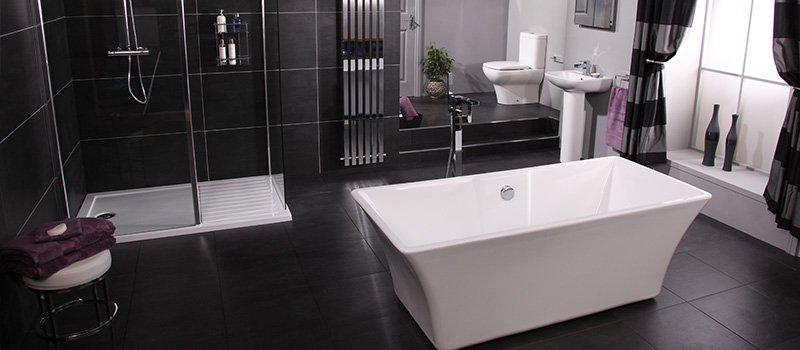 Shades of grey
Shades of grey (however many of them you use) can help you to create a subtly striking room scheme. Our Polis Relieve Gris tiles are an easy way to channel this look into your bathroom: create an eye-catching feature wall or splashback with smaller tiles and keep it simple elsewhere with large, pale grey wall tiles and a darker grey tiled floor.
Striking white
A top 10 bathroom colour schemes list would not be complete with out white. A popular choice for minimalists, white bathrooms look clean and simple but can be hard to get just right. The key is in adding just enough variety to keep it interesting (and prevent snow blindness): bring in different tones and textures, and think about adding some subtle white-on-white pattern, using detail such as our retro white Versailles decor tiles.
Soft colour
Pastels in the bathroom have had a bad name since we collectively turned away from peach bathroom suites a couple of decades ago. But soft colours can look great if you use them wisely. Pick a pale shade of bathroom paint to soften a starkly white bathroom suite or choose a pastel coloured centrepiece such as a roll top bath for a shabbily decadent look.
Eclectic
Most bathroom colour schemes are perfectly coordinated. An eclectic bathroom is one which avoids coordination yet somehow looks just right; eschew suites and sets, choose only items you really love and let your imagination take overª
Bright
The most beautiful bright bathrooms often team striking accents with a more muted backdrop: hot pink against white; sea green against grey; vivid, autumnal shades against aged, real wood. Colourful mosaics can be a good place to start, while statement sanitaryware is an expensive but striking alternative. Make sure you dont overdo the colour, though you want bright, not blinding!
Neutral
A good neutral bathroom brings a sense of calm to the home and offers an escape from the hustle and bustle outside. Our classic beige travertine tiles have a soft warmth, while our silver beige honed marble tiles will lend a cool, contemporary edge to any neutral scheme.
Natural
Natural materials are ever popular, but solid wood floors, wooden bathroom furniture and real stone tiles tend not to be cheap and they need a lifetime of maintenance, too. If you love the natural look but want to take an easy-care approach, you could consider stone effect ceramic tiles and, for a beautiful floor thatll last and last, some of our Cortina Monte Cristallo wood effect floor tiles.
á
Back to basics
If highly polished coordination isnt for you, a back to basics bathroom style could be the way forward. Features such as exposed brickwork, distressed pine floorboards and upcycled wooden bathroom furniture combine with modern features like tree trunk wallpaper, sleek, chrome waterfall taps, and centrepiece features such as a contemporary cast stone freestanding bath.
Timeless
Were fast approaching 2014, but your bathroom could have timeless appeal if you opt for classic, chalky colours and traditionally patterned wallpaper or painted wood panelling. Complement your timeless decor by adding period style features with a contemporary edge, such as our Lunar luxury slipper bath.
We hope you found our top 10 bathroom colour schemes helpful, áfor more information or to purchase the products featured in this post dont forget to visit the Better Bathrooms website www.betterbathrooms.com